The "Career Guidance System" (CGS) is a comprehensive "maturity model" for your career.  Take all of the self-help information you've seen out there and organize it in a manageable way so that you can bring FOCUS into you career and become INSPIRED.
Here's the high level version:

The typical first response to the Career Guidance System (CGS) is: "Looks simple and straightforward enough".
To which we respond with the middle level details of the CGS.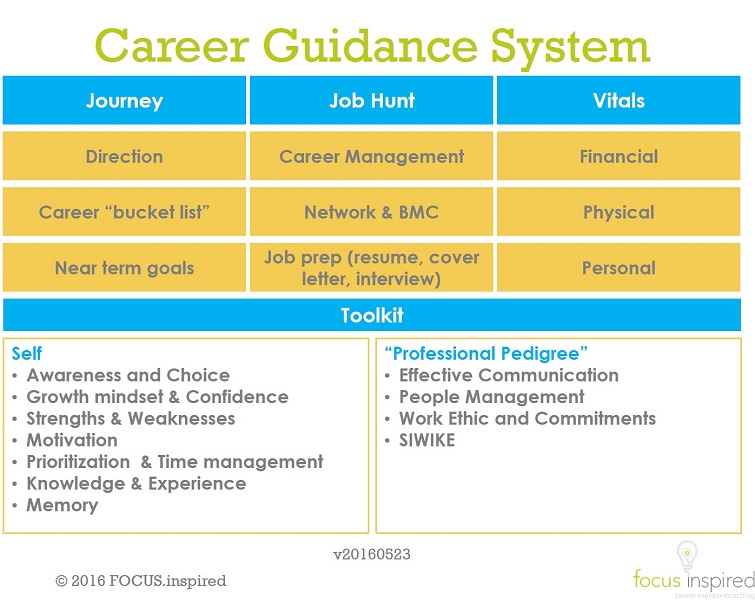 The typical next reaction is something along the lines of "OMG!  That is overwhelming!  I have not really thought about these!  I don't have a direction, I never thought of my 'bucket list', let alone all the other stuff".  This is way too much!".
And our response is: "That's OK.  Let's walk through what they are and see where you want to focus."
After some explanation, the next part of the reaction to the CGS is typically "All of this makes perfect sense and I can see a path forward."
And our response is: "Awesome, so let's move you forward."
---
In the CGS overview sessions, we prime you with an overview of what you should be considering for your career.  Explaining the concepts within the Journey, Job Hunt, Vitals and Toolkit.  The CGS overview will be followed up with focused sessions on the area where you need the most help.  Here are some of the topics / concepts discussed at a high level.
Journey

Your "North star", brand, purpose and definition of success
The "Way points" on your journey and what you've always wanted to accomplish
Setting your goals to get to your "North star" and "Way points" and achieving those goals

Job hunt

Being open to opportunities
Knowing what opportunities are out there
Staying up to date with your "administrative" items (resume, cover letter)
Knowing how to prepare for interviews

Vitals

Keeping savings and budgeting at the top of your mind
Taking care of your health by exercising regularly and eating right
Friends, family and having "me time"

Toolkit

Being aware and understanding that it's your choice
Understanding mindsets, strengths & weaknesses
Building your confidence & motivation
Learning prioritization and time management to get things done
Getting the right pre-requisites for you to do what you want to do
Training your memory
Running meetings, presentations and communicating with different types of people
Managing people above, beside and below you
Building a good work ethic and reputation as someone that gets the work done
Serving others
Thinking like a Ent/Int"-repreneur"
Work / life: balance & integration
SIWIKE: Stuff I Wish I Knew Earlier
---
Sessions
Find an event session below: