DUE TO POPULAR REQUEST, WE'VE ADDED ANOTHER DATE!  Saturday, June 25 with multiple times!
Lost in your career?  Trying to find some direction?
Is that first job that you have not quite what you thought it would be?
Or do you know what you want, but just don't know how to get there?
Or are you close to graduating and realizing what you spent the last 4-5 years studying isn't really what you want to be doing as a career?
Or do you just not know what you didn't know and want to make sure that you're not missing anything?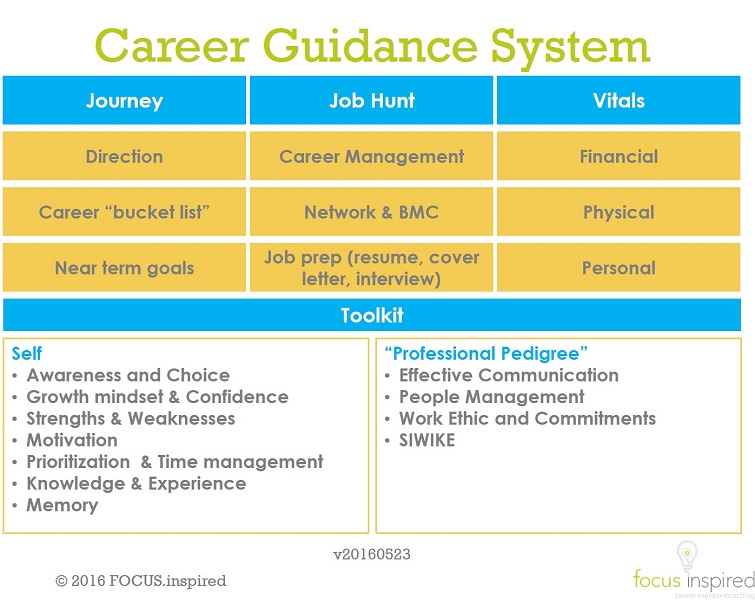 We can help.
We will be introducing the "Career Guidance System" (CGS).  A comprehensive "maturity model" for your career.  Take all of the self-help information you've seen out there and organize it in a manageable way so that you can bring FOCUS into you career and become INSPIRED.
What do I get from this?
Direction: for your career
A plan: to get you to your destination(s)
BONUSES!
2 free months of our m+ab (mentorship + accountability boost) service
Preview access to the CGS web app (expected to be released for pre-alpha trials in Q3 2016)
When and where? Logistics
Sessions are "classroom" style with a maximum 20 seats per session to allow more interactivity.

Various times:

Monday, June 20
Saturday, June 25

Hilton Garden Inn Markham conference center (Highway 7 and 404)
How much does it cost? Pricing
$50 per participant

$20 per participant (with code FOCUS – a small bonus for finding us through our website)
How do I register?
Get your tickets here (seating is limited)!
Who is the speaker?  Presenter information
Luki Danukarjanto

 Luki has found his passion in helping others reach their potential!  With 13+ years of experience in management consulting, and 6+ years of campus recruiting and "experienced" hiring under his belt, he has turned his entrepreneurial tendencies to share his SIWIKE ("Stuff I Wish I Knew Earlier") to help accelerate millennials (and those of all ages) along their career journey.
Who should attend this session?  Our target audience is:
Everyone!  Well more specifically those that are looking to achieve their career potential.
Even more specifically you could be:
a recent grad, now working for 1+ years and are finding the job not as fulfilling as you thought…
taking or took a degree only because that's what your parents or your family tradition wants and have no idea what you want to do with it!
almost graduated and ready to enter the job market only to realize that you've been too focused on study and not focused on the point of the degree: to get you a job!
an experienced professional who has worked for 5+ years and achieved what you wanted to but are now looking for more…
someone who spent tens of thousands of dollars on an initial career investment but has not made any more investments to maintain you career ongoing
looking to stay ahead of the pack and want to make sure you're not missing something and "know what they don't know" about your career…
Can you tell me more?  Go to the details page here: https://focusinspired.com/index.php/cgs201606-details/