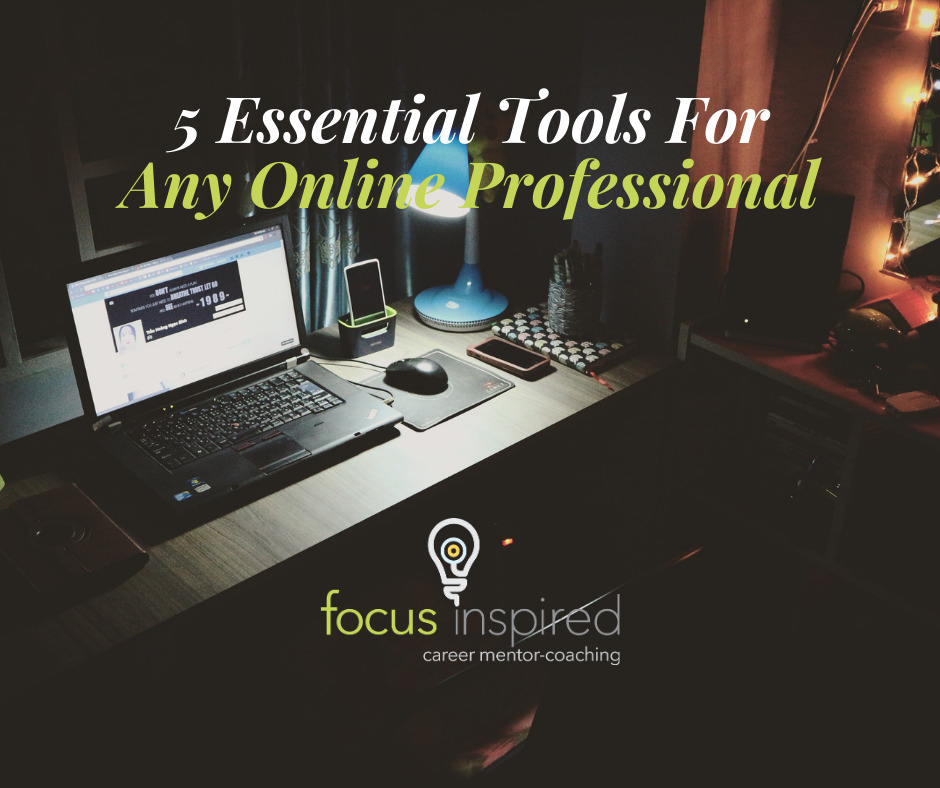 5 Essential Tools For Any Online Professional
Technology is slowly taking over the business world, one step at a time. With the onset of the COVID-19 pandemic, more companies are turning to online platforms and solutions to help run their businesses. Companies like Zoom took the world by storm with innovative online solutions, helping people stay connected even over long distances, especially now that it is needed more than ever. Where there is a need, there will always be someone stepping up to fill that need, and the digital environment is becoming filled with very lucrative and effective tools that allow people and companies to be more productive than ever before.
It can feel really easy to get left behind or feel overwhelmed in the wake of technological advances. It seems like there is always something new to learn approaching on the horizon, whether it's a tool or method or something else that is designed to fill a need and make our lives "easier." While we are getting newer technologies all the time, there are a few constants that are here to stay that should be any professional's foundation in today's digital marketplace.
Here are a few things that you should consider adding to your repertoire of skills for the modern online workplace.
1. LinkedIn
In the modern digital world, LinkedIn has become the social media equivalent of your business card. By providing someone with either your personal or business' LinkedIn page, you are giving them a snapshot of what you represent, and the experience you have built up over time. It has become fairly commonplace for businesses to ask for your LinkedIn profile as part of their hiring process, to give them a detailed overview of who you are in a matter of seconds.
LinkedIn also goes far beyond merely storing user profiles. It is an excellent place for professionals to connect and find like-minded people. They have become one of the world's largest job boards and help connect people with work every single day. With its multitude of posting and sharing options available, it is also a great way to share your thoughts and ideas to a wide network of people. LinkedIn is continuously spreading its influence and will only continue to gain traction as time goes on, so if you haven't gotten on-board yet, it is probably a good idea to do so sooner rather than later.
2. Productivity Suites (Most notably: Microsoft Office and Google Workspace)
With the move to online workplaces comes the necessity for businesses to communicate and share ideas effectively with one another, no matter where your colleagues are in the world. Microsoft Office and Google Workspace (formerly G Suite) are the two most popular productivity suites in the workplace today, and while they both offer paid options for businesses on a subscription-based plan, they each also have their document web applications available for free to the general public with either a basic Microsoft or Google account. This gives you access to common applications like word processors (Word or Docs), spreadsheets (Excel or Sheets), presentations (PowerPoint or Slides), and more, alongside a small amount of cloud storage for you to store your documents. By giving a basic, free user access to their full applications, it makes it very easy for a user to become familiar with their software and potentially want to subscribe to their paid service. While you may not wish to end up with a subscription in the end, it does make it very easy to jump in and learn these productivity suites with very little setup required.
Although Microsoft Office and Google Workspace are by far the most common productivity suites in use today, it should be noted that there are other very effective suites that work well if you should choose not to use either of these options. Apache's OpenOffice is one such example, allowing you to work in a user-friendly environment that also exports to Microsoft Office file types, making it compatible with the much more widely-used platform. It also has the added benefit of being a free-to-use software, making it a highly-accessible professional software alternative with unbounded space, only limited by your devices' storage capabilities.
Whichever productivity suite you choose, having knowledge in how one works allows you to understand the basics of all of them. Productivity suites are essential in today's workplace, making them equally essential for the modern professional resume.
3. Email Management Tools (Most notably: Microsoft Outlook, Mozilla Thunderbird, Outlook.com, Gmail)
It is important to note that while Microsoft's Outlook and Outlook.com carry similar branding, they are not the same application. Microsoft Outlook is the clear leader in desktop email management systems and is included in Microsoft's productivity suite, while Outlook.com is Microsoft's equivalent email web application derived from the now-assimilated Hotmail email service. In the desktop category, Microsoft is the undoubtable leader with Outlook, to the point where the Google Workplace Sync for Microsoft Outlook (GWSMO) was developed to allow Google users to use Outlook in conjunction with their suite of choice. The main competitor to Microsoft in the desktop market is Mozilla, the creator of the Firefox web browser, with their Thunderbird application. Thunderbird does not have the same support as Outlook as an all-around program, as Outlook has the benefit of integrating into other applications like SharePoint and Exchange to build a more comprehensive organizational system. Despite this, Thunderbird is still widely used as a solid organizational platform, and should not be discounted as a simpler alternative to Microsoft's behemoth.
The desktop email management system is one area where Google has not developed a competitive service to Microsoft, instead opting to compete against the web-based Outlook.com with Gmail. Gmail offers many of the functions of Outlook.com with a slightly different delivery, and for all intents and purposes is a fairly comparable tool. Businesses using Microsoft Office will almost certainly be using the Outlook program, while smaller businesses using Google Workspace will likely find that Gmail's functionality is more than suitable.
All of these programs are accessible to the public, although the web-based applications are easier to get started on for new users than the more complex desktop systems. For those starting out with the software, I would recommend going in this direction first to understand the basics before attempting to tackle a larger piece of complex software.
4. Video Conferencing and Remote Project Facilitation (Most notably: Microsoft Teams, Google Meet, Zoom)
The worldwide COVID-19 pandemic has seen video conferencing and remote project facilitation become an essential service that allows businesses to work with their employees over long distances. While the technology is not new, products like Zoom and Google Meet have seen a meteoric rise in popularity to eclipse older software like Skype as the most popular platforms for casual video conferencing. Hosted on Oracle's extensive and ever-growing cloud servers, Zoom has positioned itself as the everyday powerhouse in the conferencing world, offering unparalleled service to the masses. Google Meet offers many of the same benefits and features of Zoom, including multiple video conferencing modes, screen sharing and more, while also offering seamless integration into Google Calendar and the Gmail organizational system. Once again however, Microsoft is widely considered to be the company with the most versatile and multi-functional tool, as MS Teams offers additional organizational methods which extend beyond the other platforms' capabilities.
In this category, choosing the right product largely depends on the user seeking to use the software. Everyday users who are largely using video conferencing for recreational use are often encouraged to use the Zoom or Google Meet platforms. Small businesses using Google Workspace are more likely to be drawn to Google Meet's seamless integration, while larger businesses with greater organizational needs might find the greater flexibility of the Microsoft Teams platform to be more useful. All of these platforms are available to the public in some form or another, making learning them fairly accessible. You will likely find yourself using multiple programs, as each are used in their respective applications very frequently.
It should be noted that Apple's FaceTime is another widely popular video calling service, but does not feature the same level of features or functionality when compared to its other counterparts. Its greatest limitation lies in the fact that it requires all users to be using Apple products, but is extremely useful in these situations with the most seamless integration of any product, built-in to every Apple device and functions seamlessly with other Apple applications like Messages and Contacts. While FaceTime is great for casual users, it is generally not used in the modern workplace, largely due to its Apple exclusivity, and should only be given a casual mention as a convenient, but widely-used tool.
5. Web Browsers (Most notably: Google Chrome and Apple Safari)
Let's cut straight to the chase on this one. According to StatCounter in November of 2020, Google Chrome is the web browser of choice for nearly every category, conquering desktop and mobile devices with over 60% of the usage on each. Only on tablets does Apple's Safari eclipse the Chrome browser, with 47% share compared to Chrome's 40%, largely due to Apple's iPad being the tablet of choice in the modern marketplace. Safari is still the second most popular browser on desktop and mobile, as Apple's Mac computer and iPhone have used Safari as a robust standard for years. It should be noted that other mainstays like Microsoft Edge (formerly Internet Explorer) and Mozilla Firefox are still available for free, but do not carry nearly the same weight as their counterparts. If you are entering the business world, a solid understanding of Chrome is a must, with Safari taking a close number two if you are using Apple products more frequently.
Conclusion
Although these pieces of software are my opinion to be the most important for every digital professional to learn, there are others which are more specific to select professions which are undoubtedly equally essential within their applications. For example, the creative field largely touts Apple and MacOS as the operating system and hardware of choice, despite the fact that Microsoft and Windows have accumulated the majority of the market share elsewhere. Learning Windows is an absolute must today, but Apple's counterpart is of equal importance for those looking to go into fields like graphic design, video producing, and other creative types. I am also of the opinion that applications like the web-based Canva is a solid application for the general population as an easy-to-use graphic design application. It is excellent for those who have little to no training in the field, and is a largely useful tool in anyone's portfolio. Canva is my tool of choice to produce the images you see as the cover for each of my blogs. If you are looking to be a creative professional, however, the Adobe Creative Suite is the undoubtable standard in creative software, and is the ideal candidate for those looking for the ultimate in professional-grade results.
I hope that this list gives you some insight into some of the best standard tools in the modern digital age, and has given you some ideas for new tools to add to your arsenal. Try them out for yourself and pack your resume with some of the most valuable skills to get noticed in the workplace!
Follow:
Share: