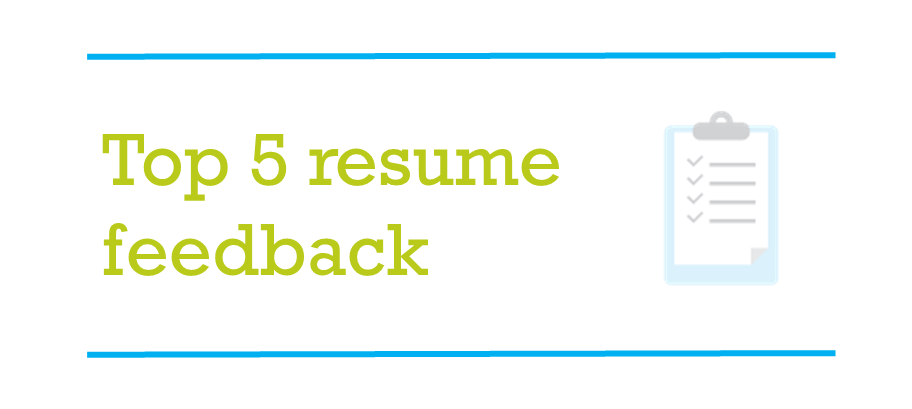 5 most common pieces of resume feedback
I'm not sure if the market is heating up, but I seem to be getting a lot of resumes to review.  Most of them share common themes so I thought I'd write them down since most of the feedback is common.  The information might be conflicting with what you've heard in the past, so I explain why from the context of a recruiter so that you can make your own decision on whether it's important.  And if it's important then you choose whether you want to implement the feedback into your resume or not.
1. One page please
Unless the job posting has pages and pages of qualifications and requirements, then you should be able to match up to those requirements on the page.
Why?
As a recruiter, most of the time I'm looking for a reason to say No or a reason to say Yes.  If I've already reached the end of the first page and haven't found a compelling reason to say yes, then it is highly unlikely for me to find a compelling reason on the second page.
If you have decades of relevant experience and there are lots of requirements, then fine, make it 2 pages; But make sure the most important and relevant information is on the first page, and please don't send in a resume with more than 2 pages unless it's absolutely required (some government jobs like you to have 3 or more pages)
2. Get rid of the "summary of X" and "objectives" sections
Why?
A resume in French means "summary" and is by definition a summary of your career experience so you must really think the recruiter doesn't know what they are doing if you think they need a summary of a summary;  Plus without the context on where you got the experience, most of what is in the summary is hollow, not to mention redundant since it would inevitably have been included in your experience below.
So what you want to do is include the information as part of the experience when it was obtained.
Also, getting rid of it frees up a lot of space to get you to 1 page.
3. Activities and Achievements
You need to differentiate yourself and focus on achievements.
Why?
Most resumes outline activities (responsibilities), which are "what you did";  Unfortunately that's the same stuff that the person did who got fired before you.  The differentiators are the achievements (which are "how well you did it");  Typically an achievement follows:
<Verb> <what you accomplished / what were your results> <how did you do it>
4. Answer the question: So what?
Why?
Yes it was nice that you won the spelling bee, and yes, and running 10 KM in under an hour is an accomplishment; but if it doesn't help in the role that you are applying for, you'll want to think twice on whether there is another bullet point that would better reflect a relevant achievement.
Also, it helps you manage to that 1 page goal.
5. Use the job posting as a checklist
You should meet at least 80% of the qualifications / requirements on the posting as activities (and ideally accomplishments) on your resume.
Why?
The company has requirements for a reason; they want to make sure that you can do the job;  If you have done it and better yet have an achievement against it, then they can validate you can do the role.
More importantly, recruiters may not have any experience with the actual job. The only knowledge they have is what is given as qualifications / requirements that are provided by the hiring manager. If the recruiter does not see those key words clearly and specifically, they might rule you out.
This also means that you should tailor each resume for the job;  It doesn't have to be an overhaul, but at least some tweaks and adjustments;  And if you aren't willing to put 30 minutes into the update, then you said a lot about your work ethic and how effective you'll probably be at the job.
There you have it. That's a quick summary of my most common resume feedback. If you incorporate these changes, you'll probably feel like a client of mine who said "You know that TV show "extreme makeover: home edition." I feel like that guy." He used the feedback to transform his resume and to get results. So hopefully this feedback helps your resume as well.
And with resume feedback, I'm sure some interview prep tips will be on their way…
BTW. Here's a test video version that is at a low production quality. I will create better content incorporating any feedback provided. Take a look if you learn better visually / auditorily (if that's even a word)!
ABOUT FOCUS inspired
We are career catalysts looking to initiate the reactions that would not have otherwise happened towards your career success. "Personal trainers for your career" helping you turn knowledge into results!
Follow:
Share: