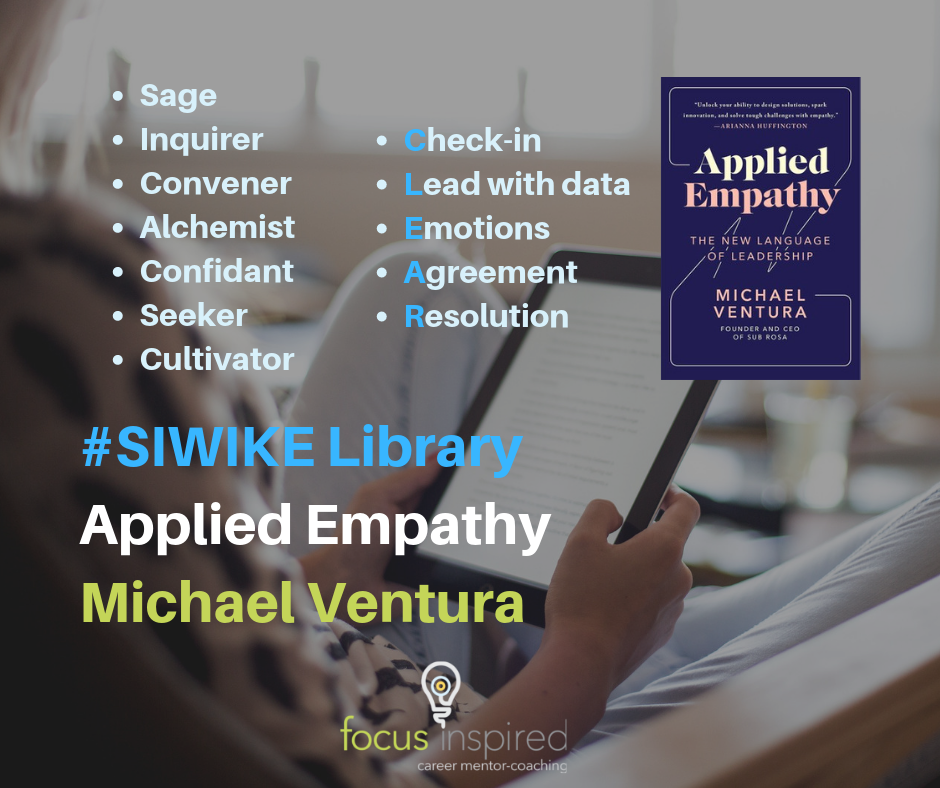 BOOK 2019: Applied Empathy: Michael Ventura
Summary:
Applied Empathy has tactical and practical steps to implement empathy within work and life. The book is structured around 7 empathic archetypes help provide structure to practice empathy:
Sage: be present – inhabit the here and now
Inquirer: question – interrogate assumed truths
Convener: host – anticipate the needs of others
Alchemist: experiment – test and learn
Confidant: listen – develop the ability to observe and absorb
Seeker: dare – be confident and fearless
Cultivator: commit – nurture with purpose and intentional growth
The author, Michael Ventura is a compelling person for as he has a "whole-self" approach and event runs an indigenous medicine practice.
"Applied Empathy" was read Jan 2019
Why I decided to read it
As you know, I'm a huge proponent of "soft-skills" and intangibles. Of which things like self-awareness, emotional intelligence are among the most common I'll discuss. In my opinion, empathy is an emerging super-power, which is why roles like UX (user experience) and marketing are in such hot demand. Also, with the growth of AI/ML (Artificial Intelligence and Machine Learning), jobs that remain will focus on relationships of which empathy will be a key differentiator.
I found the information insightful and helped provide the vocabulary to describe empathy. As well as structure to take empathy and implement it with a logical approach. Now there is still much art to the process, but it does help put the science around it so it can be repeated and taught.
Who should read it
Applied Empathy should be read by pretty much everyone. Especially those in roles that have customer-facing elements. Take the elements of empathy and apply them in your job and your life and you can learn to be more empathetic. Practitioners and business leaders alike should read Applied Empathy as practical guidance to become more empathetic
Memorable highlights for me
The empathic archetypes from Applied Empathy are useful to systematize the practice empathy. They help to provide structure for different ways one can see the situation and the other person's perspective. By taking the archetypes in turn, especially the ones that you DON'T naturally resonate with, then you can learn to be more empathetic. Now it's just about putting them into consistent practice!
I also found the CLEAR feedback model to be helpful. I feel it could also be applied to general conflict resolution.
Check-in: is this the right time?
Lead with data: start with the facts and get on the same page
Emotions: address feelings
Agreement: get on the same page
Resolution: how can we move forward together?
I also plan to get the cards at some point (though shipping to Canada costs as much as the cards themselves)
Get it here on Amazon: https://amzn.to/2UVhtdH

Follow:
Share: