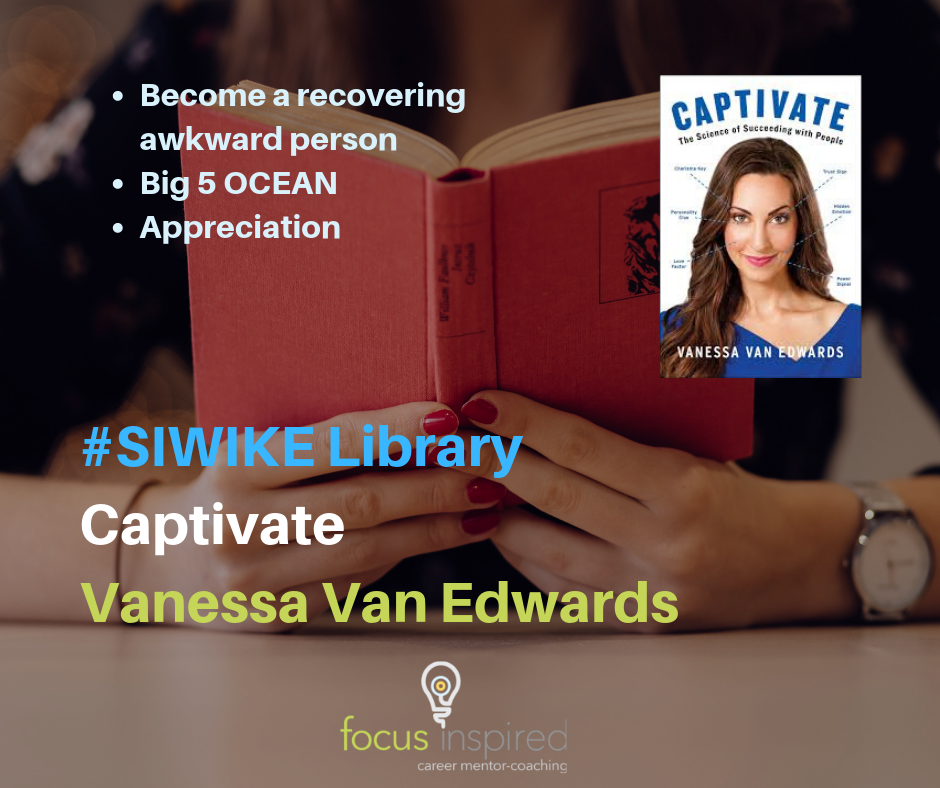 BOOK 2019: Captivate: Vanessa Van Edwards
Summary:
Vanessa Van Edwards identifies herself as a "recovering awkward person" and I resonate with that label. Captivate recounts the art and science of connecting with others. Body language, the Big 5 OCEAN model and even a game plan for a networking event are all included. She walks through the first 5 minutes, first 5 hours and first 5 days after a networking connection.
I was already aware of much of the information in the book, and her approach to it provided me with a more memorable way to understand and apply the information.
Even though I've heard much of the content before, I appreciate the way it was packaged and presented with more humour and examples. Also that she and her colleagues are creating experiments to test their hypotheses so it's not just anecdotal experience.
Captivate was finished being read Feb 2019
Why I decided to read it
I became interested in the content after seeing some videos on body language. I needed subscribe to the mailing list to watch them and did so. There were interesting topics that aligned with my interest in self development. When taking the NLP (Neuro-Linguistic-Programming) there was an emphasis on sensory acuity (detecting changes in a person's facial characteristics) and the body language and facial expression videos reminded me of that. After some other newsletters with interesting headlines for someone in self development such as myself, I decided to put the book on my to read list.
Who should read it
Those who are looking to build stronger relationships. Especially recommended for introverts or those who feel their social skills need improvement. If you consider yourself awkward in social situations, you definitely want to pick this one up. Anyone who wants to be able to "captivate" others more.
Memorable highlights for me
Recovering awkward person. Sense of humour. The science.
Have you read it? What did you think?
Get it on Amazon: https://amzn.to/2TCU4wV
Share: