Status Go Series: How Nick Became Focus and Inspired to do an MBA
The Focus.inspired team is thrilled to have been on a journey with Nicholas, a young  professional chemical engineer, who has recently reached a goal in career achievement and engagement.
Our career catalysts help clients like Nicholas by sharing stuff we wish we knew earlier (SIWIKE) along with catalyzation and accountability support. This helps professionals in Canada reach their career potential and find greater career satisfaction.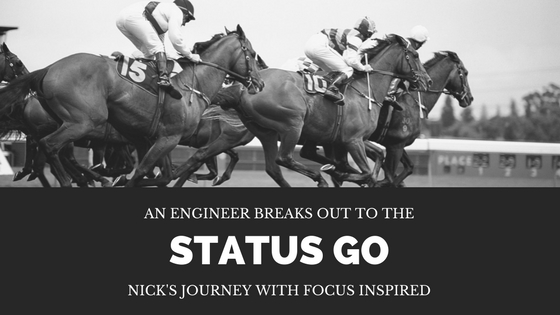 If you're ready to take your own career out of the status quo – don't wait to talk to us and schedule a consultation with a Career Catalyst.
What's the Occasion?
Nicholas a Chemical Engineer recently admitted to Rotman's MBA program.
Why is this a Big Deal?
Nicholas was not the guy you would think to take the lead. He never thought an MBA was something for him, nor did he see a career being more than a job. Until his trajectory changed.
What's your Story Nick?
Prior to connecting with Focus Inspired, the main professional goal on my mind was simply to find a job. Leaving my old job in HK, being unemployed and being unpaid for a prolonged period really made me anxious to get back into the workforce, even if it meant starting fresh.
What were the Hurdles you Kept Running into?
The biggest challenges I faced was (and didn't know at the time) the poor marketing of my skills and experience as a professional (either through resumes, interviews etc). Having been looking for work for so long, I fell into a routine where applications and interviews became routine and very little initiative on my part was done to follow up and connect with my interviewers.
How did you get Focus and Inspired?
I think the biggest help from Focus.inspired came from guidance setting goals and keeping me accountable for achieving them (or at the very least working to achieve them). The mentorship and guidance helped me stay motivated and focused to reach my potential; half a year ago, I could not fathom entering a top MBA program , however, after getting help with resume writing, interview skills, and other facets of personal development, I found myself accepted to the top program in Canada.
What's a SIWIKE you Wish Others Knew?
I think the biggest recommendation to anyone is to look for help or a mentor, even if you don't think you need it; There are always areas where you can improve and you never know where you can end up.
Beat the Monday Blues by getting Focus.inspired
One of the epiphanies is that Olympic athletes train by relying on a team of professionals who ensure they are in peak performing condition. Yet many professionals often run the career race alone. Nicholas has begun to drastically alter his career trajectory, and we're hoping a lot more people break into career status go.
Focus.inspired is a team disrupting the career and talent industry, by humanizing the process with empathy and service; while also bringing the best industry insights from professionals who have actually done the hands on work in the industry you're look to excel in. The work day might not be what you're looking forward to but we know that can change, and we're here to help professionals get focus and inspired.
Follow:
Share: