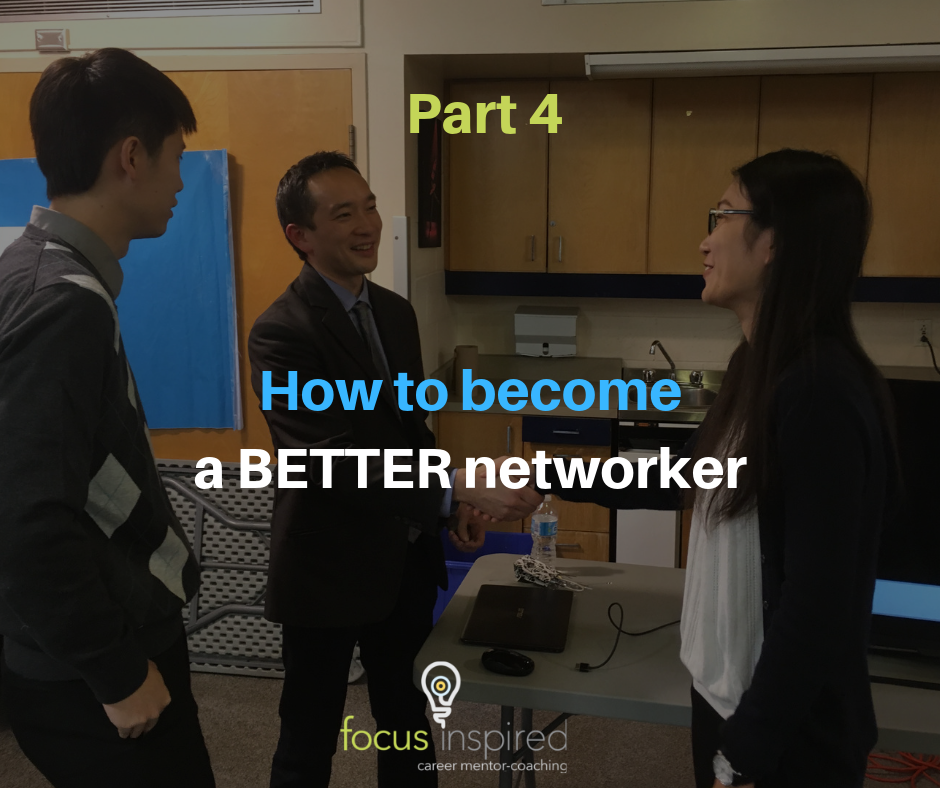 How To Become a Better Networker Part 4: You're at the Networking Event, Now What?
Now that you've been practising connecting, it's time to finally put your skills to the test at a networking event. The problem is, there are so many people to connect with and so many others like you looking to make connections.
Think of networking like a game. You have to practise conversational skills to collect as many business cards in an allotted time. A good strategy to adopt is to set a strong networking goal and game plan (ex: making 4-6 connections each hour), and always do your research before attending (who will be attending?). Always ask for a business card at the end of a conversation. It is far more likely that you will remember to reconnect with them, than they will with you.
During a networking event there are a few scenarios you may come across, and we have the tips and tricks to make your networking event a breeze.
The One-On-One
If you find that there is an industry professional by themselves, speak to them. This is your chance before they are surrounded by other people. No matter who they may be, what company they're from, or position they hold a new connection is a great connection. Try networking "pick up lines" to help you initiate and move the conversation along.
Networking pick up line examples:
How are you today? Vs How are you?
How did you find out about the event? Or What brings you here?
Why did you do decide to go to this event?
Is this your first time to an event like this?
That's an interesting [tie, necklace, ring, etc.]. Where did you get it?
What do you do?
What do you love about what you do?
Did you come from far away?
What were you up to earlier today?
Make the the conversation meaningful. Prepare your response and "stories" beforehand and do your research.
The main goal is to be interested, not interesting.
The Networking Circle
The networking circle consists of connectors like you who surround the industry professional.
Luki's tip for breaking into the circle, is to lightly nudge someone until they make eye contact with you. Keep making eye content until they let you into the circle. If the person you're nudging won't let you in, move along the circle until someone does. Wait for a pause when the industry professional is speaking and introduce yourself. Use the phrase, "Sorry to interrupt. I just want to introduce myself. I'm [make your name memorable]. I didn't mean to interrupt, but please go ahead."
The One Who Never Stops Talking
Maybe you've applied yourself too well and appear extremely interested. Your new connection won't stop talking. Always keep your networking goal in mind. If you want to meet 4-6 new contacts an hour, you have to keep moving on.
Perfect an exit phrase like:
Thanks for connecting. I'm sure there are a lot of people who want to meet with you. I don't want to monopolize your time. I'd love to get your contact information and continue the conversation at a later date.
If you aren't sure how to stay connected after the event, learn our tips and tricks in How To Become a Better Networker Part 5: How to Stay Connected
Contributed by Tiffany Kwong  www.thepickyprincess.ca
Follow:
Share: