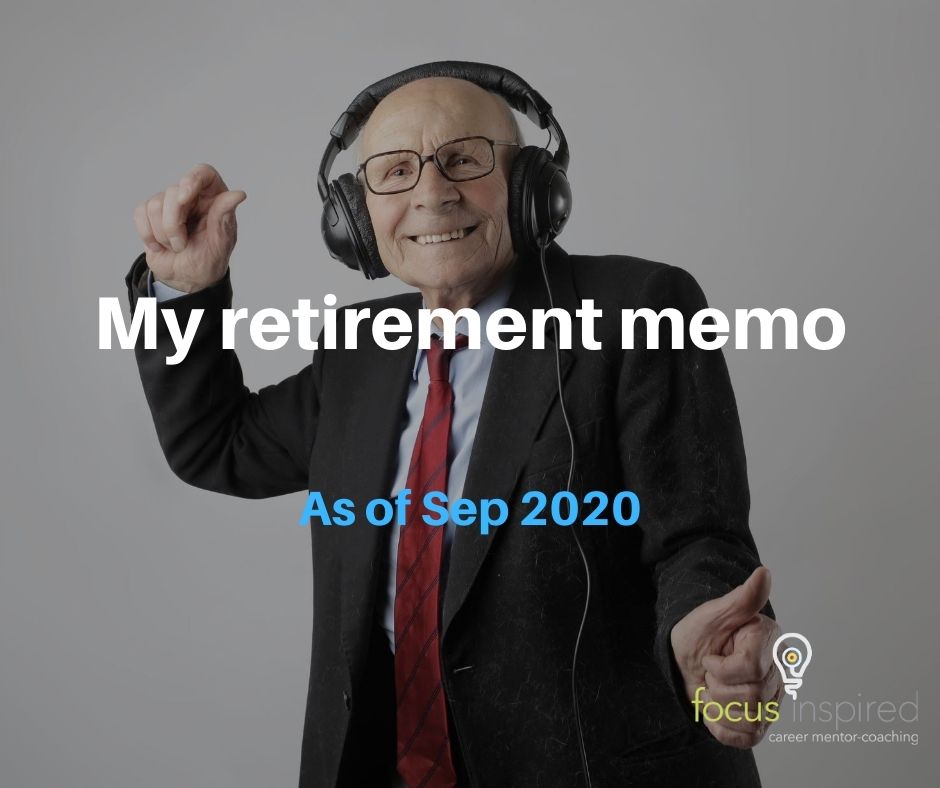 My retirement memo – Sep 2020
One of the exercises that I encourage those looking to answer the question of "what do you want" is to write your retirement memo. Take a look here for details. The gist of it is to imagine that you are retiring and a memo needs to be sent out to the company/association that you're working for: what would you want that and I want to say?
Given that I intend to be authentic and "practice what I preach", I figure I would share with my retirement memo. Take it for what it's worth. I don't claim to be able to predict the future. Though if I have any influence, then the intent is for all if not most of what's written here to be true.
Today we celebrate the last day of Luki Danukarjanto serving as the president and CEO of FOCUS inspired (FI). Join us in the auditorium throughout the day for refreshments. You won't need to say your goodbyes as Luki will stick around in various capacities to continue his involvement with FI.
Generous, authentic and empathetic are not words you'd think of someone leading a multi-billion dollar enterprise. Though those are often adjectives associated with Luki and are probably what allowed FOCUS inspired to grow to provide the impact it does today. We wanted to take a few moments to acknowledge some of his accomplishments and achievements throughout the years.
Luki started his career as a graduate from the University of Toronto Scarborough. He graduated with a computer science degree at the time when the dot-com bubble burst. Fortunately, he had a friend whose brother was looking for a coder so he helped him get an interview and if he got the job. as luck would have it Luki ended up working as a developer with Deloitte in their technology consulting practice and spent a long 12 years there enjoying his time moving into the business world moving from a developer to a tech lead, to a business analyst, to doing testing, change management, training, project management, advisory, practice management, lots of other interesting things. He also got quite involved in campus recruiting as well as other talent management activities. He was also fortunate enough to have a bunch of mentors that helped him to his career and set an example for him to get on his future career path. 
While he enjoyed his time at Deloitte, he realized that there was more he wanted to do. He found that career coaching with something that he was good at and he enjoyed doing. Always being a bit entrepreneurial, wanting to open up a restaurant, tutoring school, other businesses (though admittedly too scared to undertake those activities), he finally got the guts to start off on his own and get out of his comfort zone. He started by contracting for a bank doing some organizational change management. Then on the side, during lunch or evenings when the kids were in bed, he would look to coach and mentor others in their careers. 
When he decided to transition to full-time career coaching, things were a bit rocky. Though slowly made progress with various post-secondary institutions and people-minded companies. FOCUS inspired, the company he founded, now boasts to be the largest education institute worldwide, providing some form of educational service to billions, while itself not being a traditional school and instead partnering with schools. 
Luki has consistently emphasized building meaningful connections for success and that is showcased in the endeavours he has undertaken.  Many are collaborations and joint ventures with well-known brands or lesser-known brands that are fantastic at what they do and have an interest in education. He's also credited with making career and life coaching a pervasive need. His premise is that high-performing people, celebrities, athletes, etc. have coaches and shouldn't it be everyone's goal to lead their best possible life? That ties well for his goal to weave mentorship into the fabric of society, which is starting to come to fruition with more and more people seeking out mentors and more importantly, people providing mentorship to others. There are now over a billion people who have been coached or mentored by Luki or something trained or influenced by Luki. 
His generous and altruistic nature has brought forth many generous gifts for not-for-profit and charity endeavours though his primary businesses continue to be for-profit social enterprises. He continues his promotion of random acts of kindness as well as supporting effective altruism. Karma has been good to Luki, and after decades of giving (in both time and money), he has several buildings and roads named in his honour. With all of his success, he has never been named any "world's wealthiest" lists as he continues to share, give and spread his wealth along with his wisdom. 
He continues to write and create content, which you can undoubtedly find on whatever social media platform that you frequent where he "remixes" the wisdom that leads to human-success from fellow mentors out there.  He continues to collaborate, learn from and spread the messages of other contemporaries that focus on empathy, kindness and generosity such as Oprah, Gary Vaynerchuk and Tony Robbins. As well as encouraging the next generation of innovators, entrepreneurs and mentors. 
Although he is retiring, you'll surely see him out and about and looks forward to spending more time with his kids and grandkids. While at the same time continuing to mentor as much of the world as he can!
Follow:
Share: