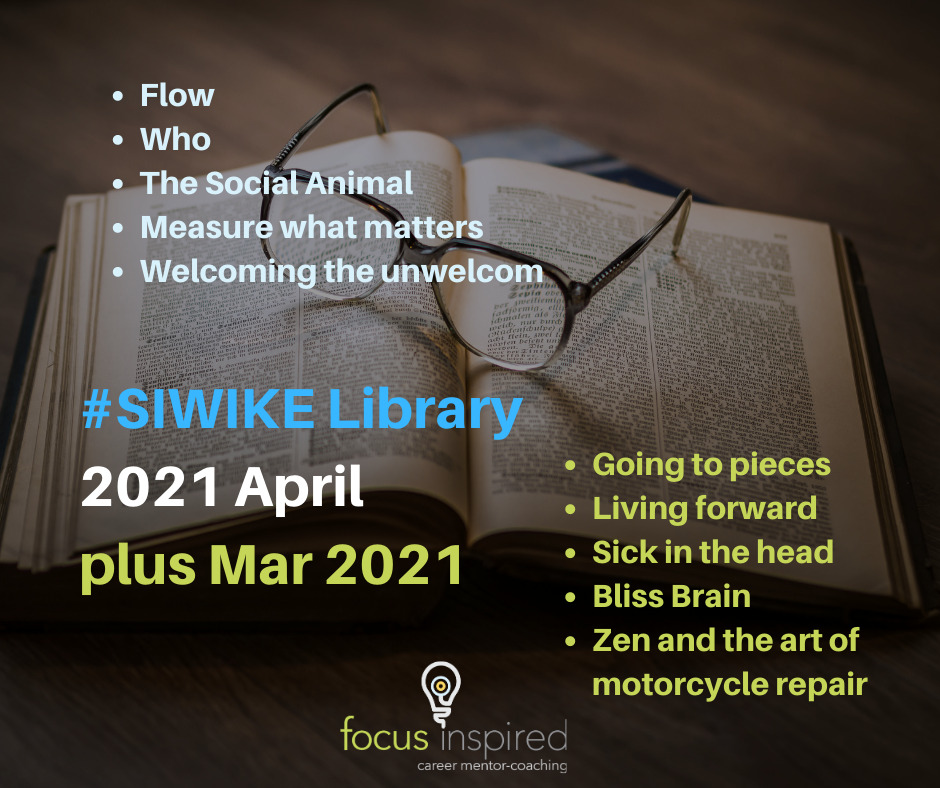 SIWIKE Library – Books 2021 April
I do a lot of reading. Which is a far cry from someone that I didn't read a book (other than what was mandated by school or work) until well over a decade after I graduated. I didn't particularly like reading at first. What I eventually found was that I loved learning. And possibly more importantly, being able to share that learning with you, my audience and my coaching clients.
Now my goal is to read a book a week. Actually, that's been my goal for the past 6 years now. I've never been able to do it in the past (though last year I did get to 40 something books).
It's April 30, 2021 and as I'm writing this, I have read 26 books so far. Looks like I'm on track.
I though I'd share the books I've read and insights I've learned.
Here are the ones that I've done for April 2021so far.
I'll also go back and record previous months so that I can catch you up.
Apr 2021
Flow: Mihail Csikszentmihalyi
Get it on Amazon https://amzn.to/3dpiln2
I've heard the term flow mentioned many times and the concept is straight forward so didn't think to read the book. That being said, the details in which flow is applied becomes much more relevant and impactful.
Definitely worth a read if you're looking to understand more on peak performance and motivation.
Who: Geoff Smart
Get it on Amazon https://amzn.to/2Q94IiY
I was the campus recruiting lead at a Big 4 under tech consulting and work a lot with job seekers. I recently hired my first coop student and thought it would be good to learn some more best practices in hiring. While the hiring is more focused on executive recruiting, some of the strategies and techniques could be applied to everyday hiring.
Definitely worth a read for those looking to make better hiring decisions.
The Social Animal: David Brooks
Get it on Amazon https://amzn.to/3gHYhP3
I can't recall where this book was introduced to me though found it insightful to understand more on human behaviour. Humans are social animals by nature and understanding the biological, evolutionary, and cultural origins can help with your relationships and other interactions.
Definitely worth a read for those looking for better relationships plus to be able to get the best out of others
Measure what matters: John Doerr
Get it on Amazon https://amzn.to/2R8i4Ms
A book on OKR (Objectives and Key Results) as an organizational planning and alignment tool. The book describes some of its origins at Intel and its applications and various organizations including Google. Also speaks to the CFR (Conversations, Feedback and Recognition) for individual performance alignment to the organizational OKR goals.
Great for organizational leaders, plus those who want more measurable performance for themselves.
Welcoming the unwelcome: Pema Chodron
Get it on Amazon https://amzn.to/32TzWNR
For those interested in meditation and mindset, this is a relatively short book that goes through many simple and helpful concepts.
Good read for those that are looking to have a better mindset and who struggle with negative thoughts.
Mar 2021
As I'm starting these series of posts in Apr 2021, I thought I'd go back to previous books. While I don't track the exact month I read them, I'll grab 3-5 books to include so I have something to write about.
Going to pieces without falling apart: Mark Epstein
Get it on Amazon https://amzn.to/3rHOniR
Lots of mindset reflections and perspectives from the Buddhist tradition. You don't have to be Buddhist to appreciate the insights as the author takes it out of religious context to be applied to the day-to-day world.
Lots of insights for those looking to shore up their mindset.
Living forward: Michael Hyatt and Daniel Harkavy
Get it on Amazon https://amzn.to/2OFDqQh
Great personal goal setting tool. Very tactical, practical as well as easy to implement.
Great for those that are looking to get more done.
Sick in the head: Judd Apatow
Get it on Amazon https://amzn.to/2QYuoPA
A collection of interviews that Judd Apatow had with various comedians. This is a pretty thick book mainly because there are lots of interviews, though the content is quite light hearted (as you'd expect speaking to a bunch of comedians). You get a new appreciation for the work needed to become a successful comedian.
Great for comedy aficionados, plus some philosophical nuggets for the rest of us.
Bliss brain: Dawson church
Get it on Amazon https://amzn.to/3cJ1Y4A
This is the book that helped me to more with meditation. I have been looking to put meditation as a consistent practice for years with minimal success. The ecoMeditation techniques taught in Bliss Brain has been much more impactful than the others I've tried.
Great book for anyone looking to get into meditation and looking to improve their mindset.
Zen and the art of motorcycle repair: Robert Pirsig
Get it on Amazon https://amzn.to/3fPo4Eg
Fiction with science thrown in. A nice story and includes many discussions about life philosophies. Many were above my understanding. Especially when it came to the discussions on rhetoric of various philosophers like Socrates and Aristotle. Though it still had many easy to digest nuggets of wisdom.
Great for those that want to explore different philosophies on how to live life while hearing a narrative story.
---
Also published on Medium.
Follow:
Share: