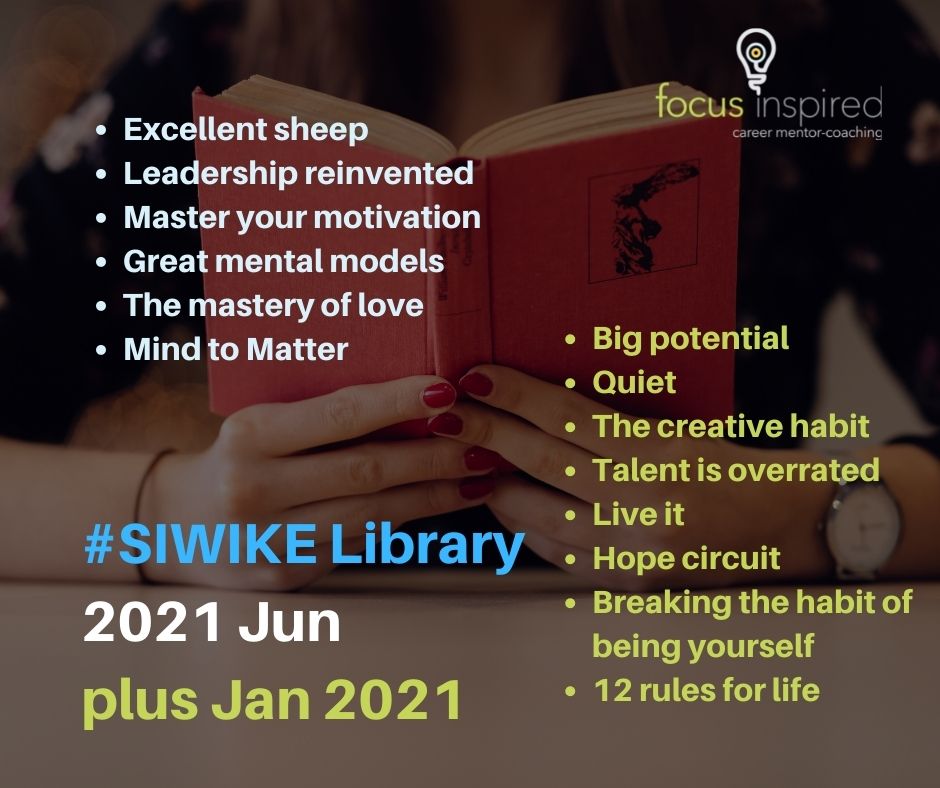 SIWIKE Library – Books 2021 Jun
The reading goal for the year continues to be on track. At the end of Jun 2021 I'm at 42 books with the start of July marking week 27 of the year. So far an unbroken set of reading days since Apr 29. Occasionally I'll miss a weekend day if circumstances change my routine significantly. This year seems like I've settled into my reading routines and plan to keep it up!
Here are Jun 2021 s and Jan 2021 books. In July, I'll be going through 2020 books.
Jun 2021
Atomic Habits: James Clear
Get it on Amazon https://amzn.to/3nLjp8j 
Great book for those that are habit junkies. With some overlaps between the work of BJ Fogg and Charles Duhigg, there is enough new material and content as well as the practical application that makes this a worthwhile read.
Great read for anyone looking to build better habits.
Tuesdays with Morrie
Get it on Amazon https://amzn.to/3ecJKJf 
A very touching story with lots of philosophical discussions on the art of dying. I teared up quite it bit in the book, especially in the later chapters. Made me think about my grandparents and how I should have spent more time with them. Plus makes me want to spend more time with my parents and family.
Great book for pretty much everyone and especially those who are empaths.
Use your head: Tony Buzan
Get it on Amazon https://amzn.to/3tf5J6B
A nice little book on memory and learning in general. Tony Buzan has written a series of books on learning and memory. The books introduces a lot of learning concepts and you'll need other books if or resources if you want a deeper dive into the meta-learning world.
Seat of the Soul: Gary Zukov
Get it on Amazon  https://amzn.to/3euidmH
Lots of great nuggets of wisdom for those looking for something more on the spiritual side. There are a few religious references, though not so much to be overwhelming. For those that are Oprah fans, she often cites the works Gary Zukov as life changing.
Getting to Yes: Roger Fisher
Get it on Amazon https://amzn.to/3ewgvS7
A nice book for those that are looking for help with negotiation. Negotiation is not just for hostage negotiation, or corporate M&A deals, these techniques can be broken down and applied to everyday life in the realm of conflict resolution.
Stress less, accomplish more: Emily Fletcher
Get it on Amazon https://amzn.to/3bh5stJ
A great introduction to Ziva Meditation and for those looking to improve their mindset. Lots of good scientific research on the value of meditation. There seems to be as many forms of meditation as there are forms of exercise. Ziva is a very active guided meditation and is useful for those like me who have a monkey mind and find it challenging to sit in silence with their thoughts.
I'm currently rotating between ecoMeditation (Dawson Church) and Ziva. These are the ones that seem to be sticking.
Connected to goodness: David Meltzer
Get it on Amazon https://amzn.to/3v4TFXs
A nice personal development book on the values needed to lead a good live. If the principles below resonate with you, or you want to find out more, then you definitely need to read the book
Foundations: Personal values, Experience values, Giving values, Receiving values
Guideposts: Clarity, Balance, Focus, Confidence
Manifestation: Perspective, Free will, AAA strategy, n-th power
Discipline: Effective habits, Performance, Penn value, The Ben Franklin Effect
Strategy: Knowledge, Planning, Emotion, Communication
Understanding: Comfort Zone, The Press, Shift the Paradigm, Maximize Momentum
Destination: Strive, Drive, Thrive, Revive
Dumbing us down: John Taylor Gatto
Get it on Amazon: https://amzn.to/3yqvu7X
Great book for those that are interested in education. John Gatto provides a history on why the current education system is very much in need of improvement. If you're like me and want to transform education, then this is a must read.
Ask: Ryan Levesque
Get it on Amazon https://amzn.to/3wOSWtR
A great book for those looking to build a marketing funnel. You get a bit of history and background on Ryan, then you get his Ask method. I'll be sure to implement some parts of the method sooner vs later.
People Skills: Robert Bolton
Get it on Amazon https://amzn.to/3i70zI4
An older book and foundational for those looking to improve their interpersonal skills. I like how many social skills are broken down into components. These components become easier to develop and improve your skills over all. Great book for those looking to improve their relationships in general.
Jan 2021
I think I read all of these books in Jan 2021, though the last few might have been in Feb. Since there was a bit of extra time during the holidays, I likely read some of the first books within a day or so.
Big potential: Shawn Achor
Get it on Amazon https://amzn.to/3s7kLMv
We are all born with Big Potential. Many of us limit yourself. Take a read for useful insights on the SEEDS of big potential. I especially like the concept of a "Praise Prism" as I'm a practitioner of optimism and positivity. The notion that the praise and positivity can be dispersed along the way is helpful. Take a read to uncover your Big Potential
Surround with positive influences
Expand your power by helping others lead
Enhance your resource by being a 'praise prism'
Defend your system against negative attacks
Sustain your gains
Quiet: Susan Cain
Get it on Amazon https://amzn.to/3sP63tZ
I identify as an introvert and Quiet was often recommended to me. I put off reading it as I already understood the strengths of introverts. Though Susan Cain puts the qualities of introverts into the spotlight and adding a few that I didn't really consider. If you identify as an introvert, this is a must read. If you identify as an extravert, this would be a useful read to understand the other half of the population.
The Creative Habit: Twyla Tharp
Get it on Amazon https://amzn.to/3iHkqM1
An insightful book about creativity and how it can be cultivated. Creativity is an innate quality of humans. Think of the most creative people in the world: children. We start off creative, and the creativity atrophies with lack of use. Twyla Tharp provides a recipe to cultivate creativity. In this case, creativity isn't just in the fine arts (paining, dance, music). While those areas are where creativity is most important, creativity can manifest in all walks of life. Take a read to help you cultivate your creativity!
Talent is overrated: Geoff Colvin
Get it on Amazon https://amzn.to/3qKg61n
A great book that outlines the benefits of the nurture side of the nature-nurture equation. While nature does play a part in life and success, the book outlines how nurture allows for the activation of "natural" talent. Basically that we all have natural talent. While natural talent might help us more initially, it is those that can constantly improve and stick with things that truly determines success. Great moral for those of us who want to do something in which we weren't necessarily naturally gifted! Take a read on how you can leverage nurture in your favour.
Live it: Jairek Robbins
Get it on Amazon https://amzn.to/2MsBrOJ
Simple and easy to follow insights, which are interesting coming from the son of Tony Robbins. Imagine what growing up in that household would be like.  Jairek gets the best of both the nature and nurture worlds and produces a useful guidebook on how to Live it! A nice read, especially if you're a Tony Robbins fan.
Hope Circuit: Martin Seligman
Get it on Amazon https://amzn.to/3rbnYcu
Marty Seligman is the godfather of positive psychology and one of the reasons why it is so pervasive these days. The hope circuit introduces the actual biology of hope and positivity. There is a biological mechanism that allows for hope to be triggered in the brain. With hope comes optimism. With optimism, your probability of success increase. Take a read to see how to activate the hope circuit!
Breaking the Habit of being yourself: Joe Dispenza
Get it on Amazon https://amzn.to/3tpSIsi
I've read a bunch of Joe Dispenza books and I am a fan. While they are all similar, they each bring a different layer to the conversation. I believe this is one of his earlier books so I probably read them in the wrong order. Never-the-less, the information was helpful and useful. I plan to add some of the meditative practices with the others that I do as well as the other exercises.
If you haven't read his other works, then you'll be introduced to the realm of mind-and-matter with associated healing and otherwise becoming the best version of yourself.
12 rules for live: Jordan Peterson
Get it on Amazon https://amzn.to/3rxo920
Another great guidebook with rules and principles to help you lead a good life. While this is likely not a complete or comprehensive list, the list does provide useful information and principles and insights. Pick the ones that speak to you.
Stand up straight with your shoulders straight
Treat yourself like someone you are responsible for helping
Befriend people who want the best for you
Compare yourself to who you were yesterday, not the useless person you are today
Do not let your children do anything that makes you dislike them
Set your house in order before you criticize the world
Pursue what is meaningful, not what is expedient
Tell the truth. Or at least don't lie
Assume the person you are listening to knows something you don't
Be precise in your speech
Do not bother children while they are skateboarding
Pet a cat when you encounter one in the street
Follow:
Share: