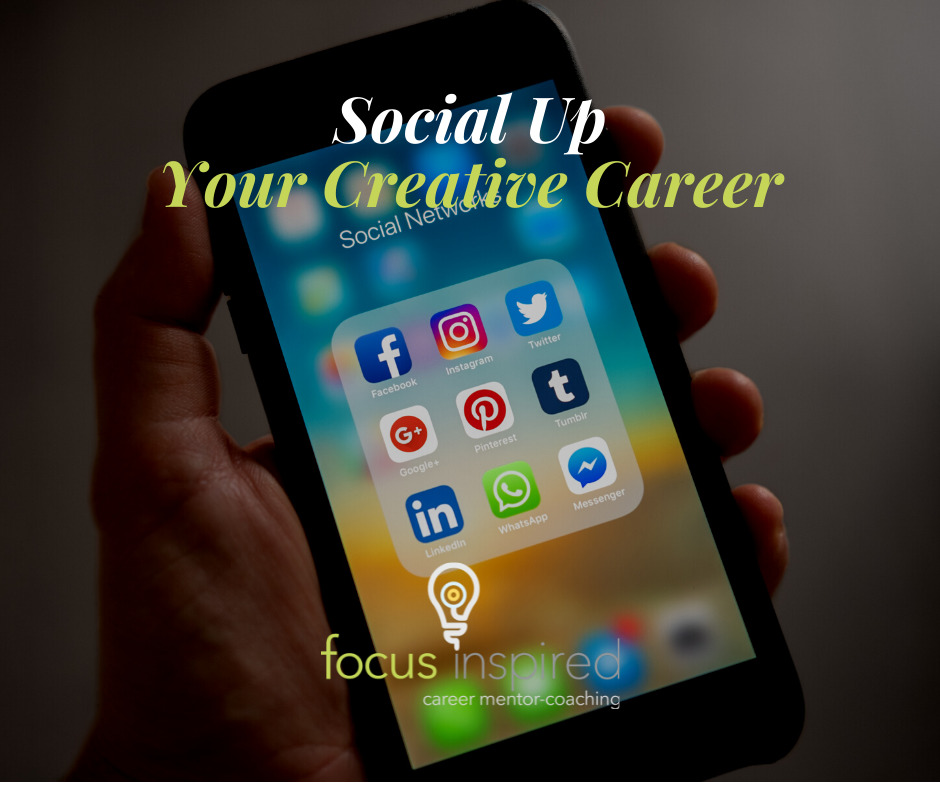 Social Up Your Creative Career
It can feel discouraging at first being a creative type person in a world where the "big careers" aren't usually found in creative industries. Creative types are often discouraged from pursuing the dreams and careers they had always hoped for in pursuit of "real" and "paying" jobs, when in reality, creative jobs have always been viable. This is even more true these days as people have become more digitally connected than ever before. Taking advantage of the latest social medias, websites, and tools can mean a huge difference in your creative career. Let's have a look at a few of them and see how you could benefit!
1. Facebook
The social media giant often credited with taking social media mainstream has been around for a while, but is still very relevant to this day. Facebook is often considered your one-stop-social-media-shop with everything from photos to videos, games, news, groups, events, and everyday life. The term "Facebook official" didn't come around for nothing, this platform is your personal profile in the digital world and documents your life journey while providing many ways to connect with your friends and relatives.
The feature that should attract most creative types however, is the Facebook page that allows you to create a feed for your creative self or business. Much like a personal profile, people following your Facebook page will catch a glimpse into the latest events, updates and cool new things that you are doing, just like one might view a personal profile. It is also an excellent landing page for people to see everything about you and your creative lifestyle, and with the many options for Facebook advertising, it is a great way for you to branch out into the community and find new people who would love your work. Facebook is great for those who want a casual hub for their creative endeavours.
2. LinkedIn
On the opposite end of the spectrum is the social media for professionals. LinkedIn is much like Facebook for a much more professional environment, allowing you to create a page for your business while offering the same opportunity to showcase your work on your personal profile, along with opportunity for engagement. LinkedIn also offers much more detailed offerings of who engaged with you, including notifications of profile views, what type of companies or people are viewing your profile, and more opportunity to engage with them directly and reach out to those who either want to speak with you or with whom you would like to speak. For those looking to expand their professional networks, LinkedIn is a must as it is quickly gaining traction as the go-to marketplace for showing off who you are as a person and what skills you possess.
3. Instagram
Hello creative photographers and digital designers! Instagram has exploded as the Facebook subsidiary that specializes in photos and short videos. This platform is ideal for the visual artist with flair, offering a unique space to showcase your work with the world at large. With its instant messaging and sharing, engagement and outstanding photo space, Instagram allows you the creative freedom to express yourself with images like never before. Instagram stories also provide you with a daily (and temporary) feed that allows your most dedicated subscribers to see the latest updates and excitement before disappearing after 24 hours, ideal for the quick update or notifications to let people know about your upcoming posts and surprises. If you're looking to develop an easy-to-view online portfolio that can easily be shared and talked about, Instagram is the playground for you to connect with your fans and followers.
4. Twitter
The ultimate platform for news and engagement, Twitter has taken the world by storm with its short messages and wide reach. Anyone can follow a Twitter account, and the reach is so broad that even previously untouchable celebrities seem accessible. Twitter has quickly become the social network for all things news and updates, with millions of tweets being created every second. For the creative type, this is the perfect way to reach the widest audience quickly, as Twitter gets the news out fast as to where you are and what you're doing. Perfect for the performing artist or the on-the-go creative where fast updates are key.
Of course, these aren't the only tools available to the world's creative gurus, but they are some of the best in terms of reaching your audience. Although traditional means of getting yourself known and out there are still valuable and important, social media simply cannot be ignored in a fast-paced world where everyone needs their information now and at their fingertips. More people than ever before are carrying mobile devices to help them catch updates on their favourite people at a moment's notice, and it's time that you take advantage of your networks.
Up your social game and find your crew! Opportunity is waiting to launch your creative career!
Follow:
Share: