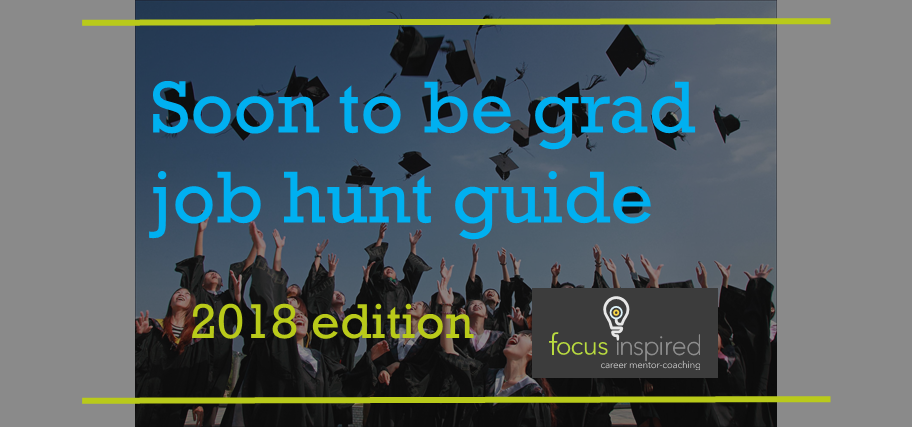 Soon to be grad job hunt guide 2018
Congratulations to the post-secondary soo-to-be-grads. You're in the home stretch and can see the light at the end of the tunnel. I've been getting a few messages from those that have popped their heads up from final exam craziness to ask about jobs. So I thought I'd update my guidance on the job hunt for soon-to-be-grads. Here are some things that you should be considering.
Get our studying for exams done
You're so close! Make sure that you take the time to finish off the last of your exams, strong. When you're studying, study. Avoid distractions. Make sure you take care of yourself with sleep, exercise and eating right, which will help you study, retain more and most importantly recall the information during exams. Take as much time as you can to study outside of your additional commitments. If you work part-time, consider reducing your shifts for the next few weeks. Partying and social time can happen after your exams.
Prioritize your job hunt with non-negotiable time
Wait, didn't I just tell you to make sure that you should spend as much time studying. Yes, that's true,  and at the same time, taking out 1 hour or so of your day to dedicate to your job hunt will go a long way. Your studying time will expand to fill up all available, so taking that non-negotiable time for your job hunt, will be the only way for any of that time to happen. Plus it will give you a bit of a break from studying.
Focus on your job hunt pillars
Here are some activities that you should be undertaking.
Passive job hunt: update your LinkedIn profile to be compelling. Find a recent grad who has a profile that resonates with you and mirror it with your own experience. Do some analysis on the alerts you've been receiving for common terms and keywords and make sure they are sprinkled around your profile. Also, make sure you upload your resume onto the job boards that allow for it. This might take you a few time- blocks to get done (say 3-4 hrs), however, once this is set up, you won't have to worry about it until you want to refresh your brand.
Network: plan to attend a networking event at least weekly. And network NOT to get a job, and instead to BMC = Build Meaningful Connections. Be curious, interested and add value. If you do, then the jobs tend to come to you. You might not feel like you can spare the 2-4 hrs for a networking event, and consider it some of your break time from studying.
Strategically network: for the companies that you really want to work for and know you can add value to, leverage LinkedIn and other resources to connect with people and BMC. Send connection requests to a handful each day. Plan to really add value to one that responds at least once per week. In my opinion, this is probably where you want to be focusing your attention as it's the one area where you can truly influence the outcome. Connections should take 15 mins/day. Adding value once a week might be 2-4 hrs.
Recruiter and other services: Recruiters don't often support new grads, but you might luck out. Services like Career Edge can be helpful as they are proactively looking for jobs on your behalf. This might be a few hours to set up the relationship with the recruiter or service.
Practice interview questions: Just to be prepared for when you do get interviews. Recording yourself practicing the top X interview questions using your smartphone can go a long way in making you more comfortable. Starting early is important. This should be about 10 mins per day.
Apply online: Although I advocate networking as the best way to get a job, applying online does have its merits. Sign up for job alerts at the usual suspects (Indeed, Monster, Workopolis, and TalentEgg especially). That also means getting your resume into a quality state (having a good format with all administrative things taken care of, reverse engineering the posting and levelling up your resume with achievements are the 3 most important tips to have a quality resume). Once you have the quality, then you can gear up to churn out that quality in mass quantity. This one is last on the list since it can fill your time based on the number of jobs available.
Stay positive!
You can do it! Don't be worried about those that do or do not have jobs within your groups of friends. There's a quote (which unfortunately I don't know who to attribute it to) "Worrying is like a rocking chair; it gives you something to do, but doesn't get you anywhere". So just push forward and it'll work out in the end.
Other help
Feel free to reach out and connect with me on LinkedIn if I could be of help.
ABOUT FOCUS inspired
We are career catalysts looking to initiate the reactions that would not have otherwise happened towards your career success. "Personal trainers for your career" helping you turn knowledge into results!
Follow:
Share: