Status Go Series: Demetris' Journey from Career Searching to Thriving
The Status Go series highlights professional journeys in the GTA, that have leapt from status quo to the Status Go. This week we spotlight Demetris, a young professional from the downtown core who came from London over a year ago to continue his career in the True North. We met Demetris at an event and having heard his experience breaking into a career was proving more challenging than anticipated we offered to catalyze his journey.
Demetris secured a full-time role with a company looking to help Canadians build a more sustainable future, he's having a blast at work and there's nothing more thrilling to seeing careers take off and people thriving in their work. Keep reading to see highlights of the journey and how Demetris hit top gear .
Looking to Find your Work + Passion?
Contact us Today

Getting to Know Demetris
Hailing from a background with extensive experience in Tax and Technology, Demetris is a digital young professional meets process optimizer. If you've got a problem he's got a solution – or knows an app for that. He once created a corporate tax files cataloguing system, to quickly trace and retrieve files. This means that for every line item reported to regulatory authorities the team knew quickly and exactly where it came from. We're talking about optimization from hours to minutes.
Our Gentlemen's Destination
Demetris was set on acquiring a full time career role in the Canadian market and eventually calling the True North his home. This meant acquiring a role that aligned with his passions and skills were important, as they would ultimately determine his longer term success.
Challenges Faced before Meeting Focus.inspired
Despite consistent commitment and applications his career situation continued to see limited results. Demetris felt these were the top challenges he faced before he decided to accelerate his journey:
Gaps in industry knowledge: He didn't know what he didn't know, even for locals industry knowledge is not easy to come by
Limited network: With most jobs coming through personal networks, Demetris was hampered by a limited network
Maturing Resume: The resume he had didn't tell the real story of his professional impact and achievements
Accelerating the Professional Journey
We worked regularly with Demetris because building people and careers take time and intentionality. Self serve resources and articles are great for knowledge, but strategy + execution has always been the deciding factor. Demetris appreciated the team for :
Telling His Untold Story: we found the untold story and potential of Demetris and clearly communicated it within his Resume and Cover Letter
Developing a BMC  Strategy: the team suggested approaches to building relationships rather than simply networking
Catalyst Accountability Service: Having someone regularly touch base with ensures accountability and sustained progress
The one on one support with résumé and cover letter writing was a great benefit and suggesting networking events to attend in order to get myself out there and known. The regular updates to check on progress keeps you motivated and on track. – Demetris
The Best is Yet to Come: Demetris and SmartGrid Technologies
Demetris is now working with SmartGrid Technologies helping the team there to empower Canadians in building a more sustainable future. He's contributing to a team and is thrilled to be working with a fantastic team. We're excited to see how far we've come together, but we're not done yet. We'll be in touch with Demetris to ensure he continues on his trajectory of success. The best is yet to come when people reach their Status Go.
3 Simple but Effective SIWIKE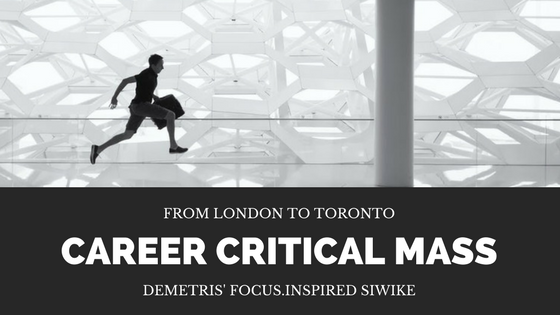 Looking back Demetris learned a number of important insights. We call these nuggets of wisdom: Stuff I wish I Knew Earlier (SIWIKE). Here are a handful of  SIWIKE Demetris wants you to know about:
Start your next endeavour now (job search, professional transition, your next goals) because the time period can be longer than expected!
Networking and constant research into an industry are nonnegotiable
Think outside the box and be creative – experiment with new approaches regularly

Demetris worked with other community resources as we leveraged this integrated approach to career acceleration
In anticipation for our SIWIKE challenge launch, we're going to offer this simple but effective challenge to our readers. Here is our SIWIKE challenge:
In the coming week find one new thing to try, in order to grow professionally
Then tell us about it on any of our social media pages below and win free coffee with a career catalyst*
Ready to Make your 9-5 into a Passion? You're One Conversation A way to getting There – Click here

One of our epiphanies is that Olympic athletes train by relying on a coach(es) who ensure they are in peak performing condition for the heats. Yet many professionals often run the career race alone. Demetris has begun to drastically alter his career trajectory because he is empowered by others , and he joins Nick as another great example of what can happen when people get focus and inspired.
Focus.inspired is a team disrupting the career and talent industry, by humanizing the process with empathy and service; while also bringing the best industry insights from professionals who have done the hands on work in the industry you're interested in. The work day might not be what you're looking forward to, but we know that can change.
*SIWIKE challenge – free beverage is offered for the first 5 people who post on social media and may be subject to other conditions.
Follow:
Share: