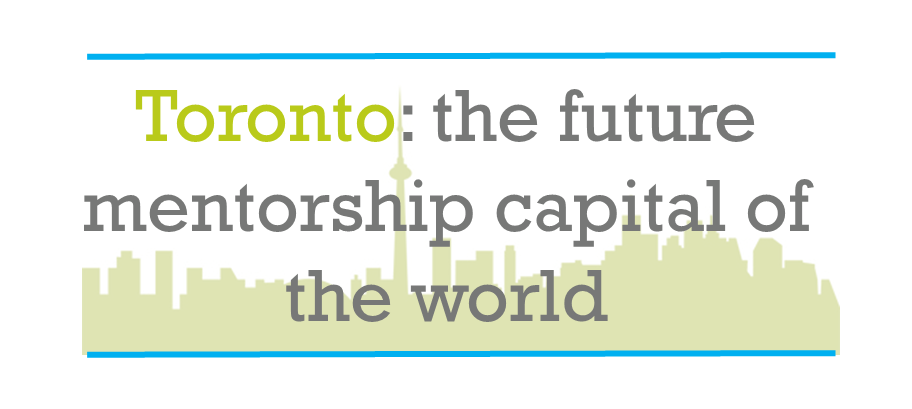 What it means to make Toronto the Mentorship Capital of the World
I have been making it my goal to make Toronto the Mentorship Capital of the World. Which sounds nice and is a message that many want to get behind. But what does it really mean? Here are my thoughts.
Find mentors
Building mentorship into the culture would be important. Everyone should readily be enrolled in whatever mentorship programs are available. At school, or at work, there should be a mentorship program for anyone. Most post grad schools have mentorship programs. A few high schools have them. Some are peer programs, some are alumni. There are various variations.
If you're out of school, you can leverage platforms like Mentor City, Ten Thousand Coffees or Founders Canada (for entrepreneurs), which conveniently are all Toronto based!
Professions will often have mentorship programs as part of their organizations. PEO (Professional Engineers of Ontario), HRPA and CPA have mentoring programs. Take a look at yours to see what they have.
If you're a newcomer, there are many mentoring programs as well. I volunteer with TRIEC: the mentoring partnership Your local employment agency may have them as well.
If you're more shy, you should at least have a mentor you have yet to meet. Books, podcast, blogs, YouTube videos, and many other places will have content that you can consume. Try a few and see what resonates with you. Mine are here.
And you don't have to stop at one, be proactive and find yourself mentors for whatever walks of life you need!
Be a mentor
It's never to early to be a mentor. If you're a post-grad student then you have experiences to mentor a high school or elementary school student. If you've just recently graduated or early on in your career, university and college students would love to hear about your experiences. So don't just join these programs as a mentee, find ones where you can play the role of mentor.
Mentor knowledge and resource share
The longer term vision would be to build mentorship into the education system. The SIWIKE that mentors share might be quite general. Making the information online and readily accessible would be a goal.
Also, helping the current mentoring programs share and leverage resources to reduce waste would be an important to the vision as well.
The effort will take a while, but we'll get there!
Have any ideas on how to help? Feel free to reach out luki@focusinspired.com
Follow:
Share: